History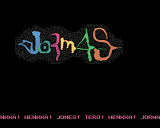 In the beginning of 1990s there were quite many active demosceners in the Jyväskylä area in Middle Finland. The demoscene brought young geeks together and it was common practice to gather together and have some good geek time every now and then.
One such gathering was held on March 18th, 1994 in Muurame by 7 young demo sceners. They wanted to create a silly joke production at this little meeting. One of the guys (nowadays Naks) began drawing a logo with an extermely stupid name in his mind - Jormas. The other guys agreed on its silliness. It should be noted that at this point they had no idea at all that the name had already been in use by an old Finnish rock group. One of the dudes (later known as PiirakkaMunalla) had some fonts with him. A nice HC tune called Boomer by Naks was also found. One of the guys was a coder (nowadays Vesuri) so all the ingredients were there. At 6 AM the little production was about to be finished. It featured a bouncing scroller with a silly scrolltext and a bouncing logo. dA JoRMaS was born.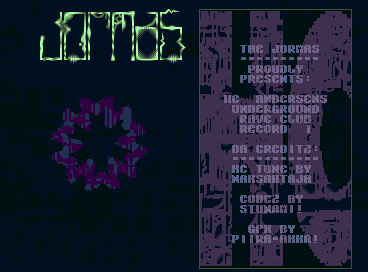 After getting home from the first meeting we realised how good the idea actually was - it was a way to get our tunes released without having to release them "as is" but together with some stuff to watch while listening. We decided to start a series of productions which would be released almost every week. Naks' Bulletin Board System, LamerLand, took place as dA JoRMaS World Headquarters. The first real production was released Thursday, April 10th 1994. It was called "HC Andersen's Underground Raveclub Records 1". Then a production followed another - on April 22nd, April 30th, May 8th...
Since we were interested in many different styles of electronic dance music we created different production series with different kinds of music. After 20 HC Andersens we changed the name of our productions to Jormasturbo. It became apparent that our tunes were actually in great demand from a (relatively small) number of people. Because there were lots of unreleased tunes available musicdisks like Epilesbian and Leucemia and the entire Urea Leak series were released to release more tunes than just one at once. In 1994 a total of 37 productions were released in only 9 months. The quality of the productions wasn't too good mostly because the coder and the graphician were lazy.
So far we had released mostly hardcore and gabber tunes and we noticed it was getting a bit boring. The new production series, TransuBambis 36-44, contained only ambient and trance tunes. We also added more design and graphics which made these productions more interesting than any earlier product of ours. There were some unreleased hardcore tunes left though so HikiCarpalos 45-50 included some of the hardest hardcore/gabber ever.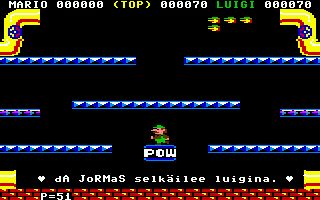 Even though we had gone out to some "raves" in 1994 the new year really got us interested. We went to many events in Jyväskylä and Tampere, got a lot of influences and saw some of our favourite artists play. Inspired by these events we got ourself our first gig (as dA JoRMaS) in Korpilahti in May 1995.
Summer 1995 was rather quiet productionwise. However, it was mostly due to us spending more time together in real life than in front of the computer. Girls, cars, grilling and chilling made their way to the JoRMa camp. We got to know a lot of good music and many members who had previously been working only with samples got introduced to the world of synthesizers. The time period was very influential to what was to come.
The ideas that came up during the summer were implemented in a new production series, Bonus Stages 51-55. dA JoRMaS also played another live set during fall 1995. The first full demo, If There Was No Gravity, and a music disk, Borrrderline, in co-operation with Suburban Base, were released. A total of 25 productions were released in 1995.
1996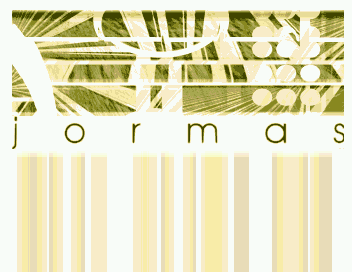 In 1996 got more and more interested in adding some nice graphics, design and overall style into our productions. When dA JoRMaS was 2 years old and we had released 66 productions but the overall quality was just getting to rise. Hirvih was interviewed in the Generation disk magazine.
At the same time we were getting more and more interested in our music made outside the Amiga demo scene realm. This interest culminated in Raato, Pekka Pou, Naks, PiirakkaMunalla and Vesuri forming a "live band", Kelmu, which later was renamed to .jRM.
The production series Floating Joints and Elastik Pitches had more design than any earlier production. The music got better as well and tunes made for the .jRM project were converted to the Amiga and used in these productions. These new interests slowed down the demo scene side of things but at the same time .jRM played 7 gigs in 5 months. The list of dA JoRMaS distributors also got longer and longer because many sysops joined with their boards.
1997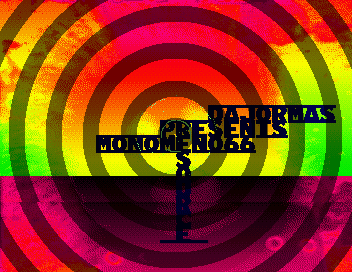 After a hectic and highly productive year things started to slow down considerably. Some of us were in the army, some of us had final high school exams, some of us started their university studies, some of us went to the business world.
Only a couple of productions were released. A new series, Monomenos, was started to meet the needs of our interest in monotonic techno. .jRM played three gigs but otherwise it was getting quiet.
1998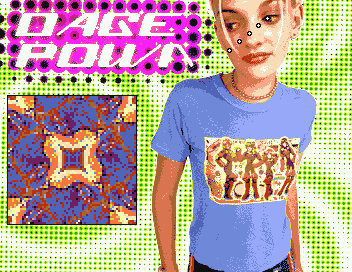 During the very last days of 1997 two demos were released. It turned out that the interest in design had finally gotten us interested in competing in demo competitions. A lot of demos were released at many demo parties. Some of the productions even got some success. Only one other production was released - dA JoRMaS' 4 year anniversary intro. Even by then we were surprised of how fast time had passed.
.jRM played the last gig under the name .jRM. Bringing the equipment of 5 artists together and fitting their tunes into one seamless mix was getting more and more difficult with people living in different parts of the country and with more and more equipment to play with.
1999
The success in demo competition earlier got us trying even harder. Our demo Ulsteri made the 3rd place at The Gathering'99 demo compo and our 64k intro Sundance got 2nd. We surprisingly won the Assembly'99 64k intro compo with an intro called Älä ota sitä vakavasti.
2000
Studying, working and other things got us. No demo scene productions were released. Pekka Pou, however, reached a milestone by releasing a record called First Blood on Rikos Records under the name Tero. He also played in many clubs around Finland and remixed Paleface's Back to Square One, released on BMG.
2001:
After over a year of silence in the demo scene two intros were released. Tero released his second record, Bombs Away, on Rikos Records. His remix of Anthony Rother's Little Computer People was released on Psi49Net.
2002
Raato's tune Eeyore was released on Anthony Rother's Electro Commando compilation under the name Mulletronic. Hätä, a multi platform demo, was released at Assembly 2002. Naks began DJing.
2003
An Amiga 500 version of the Hätä demo was released at Assembly'03. Tero released his third record, Cracker's Revenge. Naks continued throwing DJ gigs.
2004
In order to celebrate our 10 year anniversary we finally organized a public event called J10v in Ilokivi, Jyväskylä, Finland. We had two stages in two floors with live and DJ sets interleaved in them. Many members played their own live sets in addition to dA JoRMaS' live set. About 250 people were present and the event was very succesful. Live recordings and images are available elsewhere in this site.
An Amiga 500 demo will be released at Assembly'04.